We believe that through our commitment to Christ and His teachings, we continue His ministry of hope and healing to those in need.
---
At Catholic Charities of Southern Missouri (CCSOMO), we are a people of faith who seek to empower those in need to reach their emotional and economic potential.
All of us—staff, Board members, donors, volunteers, and those we serve—are members of the same team. We work together towards a common goal of strengthening families and guiding those in need on their path to self-sufficiency and rebuilt lives.
What is Catholic?
As Catholics, we affirm that all life is sacred because all life was created by God in His image and likeness. Our faith also challenges us to be particularly concerned for the most vulnerable among us. To follow Christ is to reach out in compassion to those in need.
It is very important to note the term 'Catholic' does not place limitations on whom we serve. The parable of the Good Samaritan challenges us to think of everyone as our neighbor. CCSOMO serves people in need without concern for church membership or faith. Typically, more than 90 percent of our clients are not Catholic and some do not claim any faith. We do not proselytize.
And finally, the term 'Catholic' does not imply that CCSOMO will only hire Catholics. The values we hold dear as Catholics are also basic Christian values, and in a broader sense, basic human values. CCSOMO invites men and women who share our values to join us in our mission to serve others.
Our History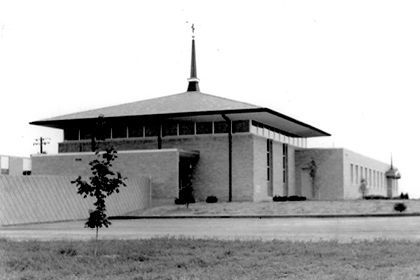 2009 - The Dream of a Local Catholic Charities Ministry is Realized
Catholic Charities of Southern Missouri (CCSOMO) is a faith-based 501(c)(3) agency established on July 24, 2009 and governed by a Board of Directors.
Catholic Charities of Southern Missouri is part of the Catholic Charities USA network, which is comprised of 167 Catholic Charities agencies nationwide.
When Catholic Charities of Southern Missouri was established, there were two employees and two offices, one in Springfield within the Catholic Center which housed the Bishop's offices, and another in Cape Girardeau.
The first program was Family and Mental Health Counseling. Agency staff also attended local meetings regarding disaster response.
2011 - The Joplin Tornado Disaster
In 2011, with the support of the local Catholic community, the diocese of Springfield-Cape Girardeau, and our network of Catholic Charities organizations, CCSOMO faced the unprecedented natural disaster of the E-5 Joplin tornado. CCSOMO suddenly became a vital source of help for those who lost everything. This event also marked a long period of unprecedented growth, creativity, and specialization. Within a year, CCSOMO became the largest provider of long-term disaster case management in the state of Missouri. CCSOMO continues to develop its capacity to help disaster survivors through the Disaster Services Program.
The Joplin disaster also revealed the great need for home repair and rebuilding. Consequently, CCSOMO launched a new program named Rebuilding Homes, Rebuilding Lives. Ultimately, CCSOMO utilized thousands of volunteers in Joplin to repair 250 homes and completely rebuild 15. The program, since renamed, continues its work today through CCSOMO's Home Repair and Workforce Development and Purpose Home Repair programs.
The agency was also active with other efforts in 2011. GoodFinds Thrift Store was opened in Joplin and became a source of direct assistance for clients. Following extensive flooding in southeast Missouri, CCSOMO opened an office in Van Buren in November to bring its disaster response work to that area of the diocese, along with its home repair program.
2012 - New Programs and Services for Mothers and the Homeless
In 2012, an office opened in Sikeston and CCSOMO began offering the Pregnancy and Parenting Support Program. This program exists today as the Healthy Moms, Healthy Babies Program.
Eventually, CCSOMO's Home Repair program expanded beyond disaster situations to include needed repairs for seniors in Cape Girardeau County, and for income-eligible families in multiple regions.
CCSOMO's Housing Assistance and Homelessness Prevention Program grew out of its work with disaster survivors who were displaced from their homes. Eventually, this program expanded to cover all of southern Missouri and reach all those struggling to find and sustain housing. Today's Housing Programs continue this work and have evolved in response to community needs. In line also with CCSOMO's goal of helping clients achieve self-sufficiency, the Housing and Financial Counseling Program was created.
2013 - CCSOMO Expands Its Mission to Support the Developmentally Disabled and Homeless Pregnant Women
In 2013, CCSOMO adopted its tagline "Reaching Out, Providing Hope, and Changing Lives." "Reaching Out" was especially chosen given the nature of our service area: geographically expansive (covering 25,719 square miles), largely rural with little public transportation, and with many areas of intense poverty. CCSOMO quickly recognized that to effectively offer our services to those most in need, CCSOMO must travel to our clients, not require clients to come to us.
When the need arose in two counties for an agency to assume the work of support coordination for individuals with developmental disabilities, CCSOMO stepped up to help. In April, CCSOMO began providing support coordination in Scott County for this vulnerable population, and eventually expanded into Cape Girardeau County. CCSOMO's continues to provide these services through its Disability Services Program. 
The year also saw the birth of a LifeHouse Crisis Maternity Home, which opened its doors on December 27, when an empty Carmelite monastery in Springfield became available. LifeHouse was soon identified as an ideal answer to the needs of homeless, pregnant women.
The Monastery was also the answer to another pressing issue. At that time, CCSOMO's offices in Springfield were located in the Catholic Center, which housed also the offices of the diocese. Given CCSOMO was quickly outgrowing its assigned space, it was a blessing that the remainder of the monastery could accommodate both CCSOMO's home office and LifeHouse.
was moved to one area of the monastery and the remainder became the crisis maternity home, LifeHouse.
2014 - A New Program for Veterans and Their Families
In late 2014, Catholic Charities of Southern Missouri launched its Support Services for Veteran Families Program (SSVF) targeting homeless veterans and veterans on the verge of homelessness, along with their families, respectively. This program is offered throughout the diocese except in Greene, Christian, and Webster counties where The Kitchen, Inc. of Springfield provides similar services to veteran families. The program is closely aligned with Catholic Charities of Southern Missouri's overall emphases on helping individuals and families who face housing crises and moving our clients toward self-sufficiency.
2015 - New Office Opens in Poplar Bluff To Serve Veteran Families, and Additional Offices in Springfield and Cape Girardeau
Due to growth of the SSVF program growth and staff expansion, an office opened in Poplar Bluff in 2015 to server more veterans and their families.
Secondary offices were required in both Cape Girardeau and Springfield, for a total of nine office locations serving southern Missouri.
2017 - Launch of a New Workforce Development Program in Joplin
Catholic Charities of Southern Missouri reached out to Joplin again with its Construction On-Job-Training Program launched in February. The program builds on the knowledge and experience CCSOMO gained from its Home Repair and Rebuilding Program, which is known today as the Home Repair program.
2018 - Acquisition of Consumer Credit Counseling Service of the Ozarks
In 2018, Catholic Charities of Southern Missouri acquired Consumer Credit Counseling Service of the Ozarks in Springfield (CCCS), as part of the ministry's social enterprise initiative. CCCS is a 501(c)(3) agency that provides debt management and financial wellness programs. Catholic Charities of Southern Missouri's mission is to lead clients to self-sufficiency whenever possible. CCCS services are seen as contributing to that mission and the ongoing endeavor to serve clients' needs for overall wellness.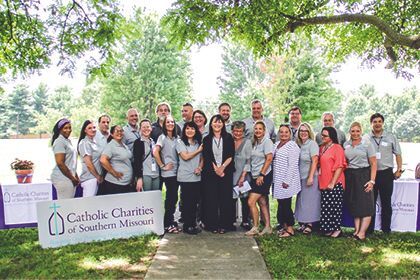 2019 -  CCSOMO celebrates 10 year anniversary and becomes accredited by the Council on Accreditation
The agency continues to grow as it enters its second decade of operation. On July 24, 2019, CCSOMO celebrated its tenth anniversary and service to more than 30,000 clients since opening.
Late that same year, CCSOMO was accredited by the Council on Accreditation. CCSOMO's COA accreditation is the seal of approval, which recognizes the use of best practices in the management of nonprofit charities. COA accreditation also facilitates long-term grant funding and telegraphs to the world of CCSOMO's long-term viability.
2020 - The COVID-19 Pandemic and Response
The COVID pandemic has challenged CCSOMO. Agency leadership committed from the beginning of the pandemic to staying open to serve clients while protecting their health and that of employees. As of the one year anniversary of the pandemic in March 2021, CCSOMO has been fully operational with no interruptions to service.
2021 - LifeHouse Cape Girardeau
Catholic Charities of Southern Missouri is named by the Springfield Business Journal as its 2021 Charitable Nonprofit of the Year. The award given on July 29, recognized the work of the ministry during the 2020 pandemic year. This award in 2021 is especially significant given it comes during a time when so many outstanding nonprofits are doing incredible work to help people respond to the COVID-19 pandemic.
Catholic Charities of Southern Missouri begins a capital fundraising campaign to build a new LifeHouse crisis maternity home in Cape Girardeau. Construction of LifeHouse Cape Girardeau is slated to begin in 2022 and its doors are scheduled to open in 2023.
2022 - Maintaining Speed
Since the pandemic began over two years ago, CCSOMO has continued to provide vital services to individuals and families impacted by the pandemic. In many cases, this assistance was the critical element in preventing homelessness. The year also saw two major anniversaries as the Healthy Moms, Healthy Babies program and the Homeless and Homelessness Prevention Services Program, both marked 10 years of service.
CCSOMO also witnessed a generational change in leadership as Executive Director Maura Taylor announced on June 28 her retirement on December 15. A nationwide search was conducted to locate a new executive director. That search ended December 22 when the Search Committee of the CCSOMO Board of Directors, along with Bishop of Springfield-Cape Girardeau Edward M. Rice, announced the hire of Ken Palermo as their choice for Executive Director. Palermo arrives at CCSOMO with 27 years of public health sector leadership experience. His first day on the job is set for January 30, 2023.
2023 - A Year of Renewal
CCSOMO is currently in the process of renewing its three year accreditation with COA.
Updated on 20230115