CCSOMO serves the 39 counties in southern Missouri that are part of the Springfield-Cape Girardeau Diocese
---
This area encompasses over 25,000 square miles and many of the poorest counties in the state of Missouri. CCSOMO currently has offices in the following locations.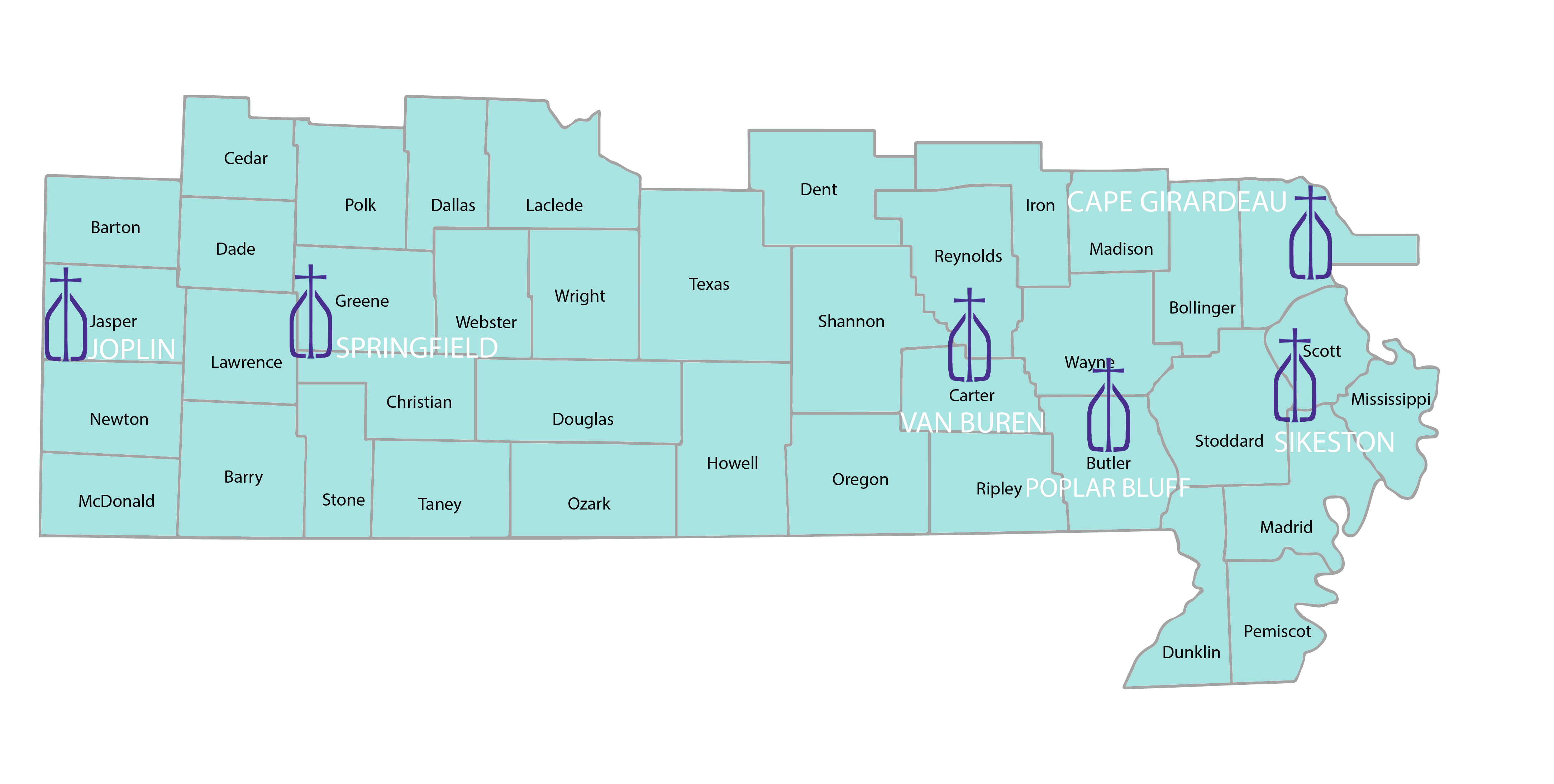 ---
Contact your nearest CCSOMO office to learn more
Contact your local CCSOMO office to begin the process of determining your eligibility for assistance. You may also write CCSOMO at info@ccsomo.org.
CAPE GIRARDEAU OFFICE
Call 573.335.0905
Serving Bollinger, Cape Girardeau, Iron, and Madison counties.

JOPLIN OFFICE
Call 417.624.3790
Serving Barry, Barton, Cedar, Dade, Jasper, Lawrence, McDonald, and Newton counties.

SIKESTON OFFICE
Call 573.481.0659
Serving Dunklin, Mississippi, New Madrid, Pemiscot, Scott, and Stoddard counties.

SPRINGFIELD HOUSING OFFICE
Call 417.268.9998
Serving Christian, Dallas, Douglas, Greene, LaClede, Ozark, Polk, Stone, Taney, Webster, and Wright counties.

VAN BUREN / POPLAR OFFICE
Call 573.323.4044
Serving Butler, Carter, Dent, Howell, Oregon, Reynolds, Ripley, Shannon, Texas, and Wayne counties.
---
Springfield - Monastery (Main office)
424 East Monastery Street
Springfield, MO 65807
PHONE: 417.720.4213 
FAX: 417.720.4216
---
Springfield - Glenstone Office
1515 South Glenstone Avenue
Springfield, MO 65804
---
Cape Girardeau (Main office)
231 Main Street
Cape Girardeau, MO 63701
PHONE: 573.335.0905 
FAX: 573.335.0988
---
Joplin Office
403 East 4th Street
Joplin, MO 64801
PHONE: 417.624.3790
---
Poplar Bluff (Satellite) Office
414 Poplar, Suite 1
Poplar Bluff MO 63901
PHONE / FAX: 573.323.4044 (Van Buren)
---
Sikeston Office
205 West Malone, Suite B
Sikeston, MO 63801
PHONE: 573.481.0659 
FAX: 573.481.0695
---
Van Buren Office
511 Main Street
P.O. Box 681
Van Buren, MO 63965
PHONE / FAX: 573.323.4044
---