Every day we see our clients succeed. We have documented a few of their moments and stories for you to share in their successes that are real-life testimony about the power you have to change lives.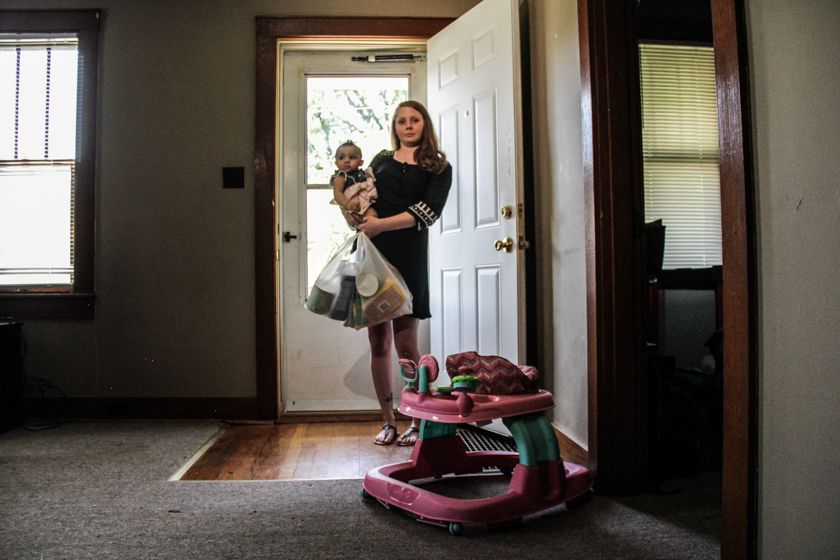 Carly's Story
"In order to work every day, or try to find employment to pay your bills, you can't worry about where you're going to sleep, what you're going to eat. It's very important to have housing. Without it, homelessness is just a vicious cycle. It's almost impossible to get out on your own."
As many mothers often do, Carly busies herself carrying groceries home. She walks up the small hill to her house with bags in one arm and her baby daughter in the other. She nonetheless manages to open her front door gracefully and stands in the entry for a moment, allowing her sight to adjust to the interior. She is proud of the sight before her eyes. This is her home. This simple yet extraordinary experience has been a long-time coming for Carly.
She was homeless not so long ago. Her private struggles led to the streets where she moved from place to place trying to stay safe and away from abusive relationships. Nevertheless, she became pregnant. She knew right then she needed help which she found at a women's substance abuse center that provided short-term housing for thirty-days. It could not certify for more. This would be a major problem for Carly. She worried about her ability to care for a newborn while homeless. She needed time and support. She was going to give her baby up for adoption.
This is when the miracle happened. A case worker at the treatment center referred Carly to CCSOMO's Healthy Moms, Healthy Babies program, where she met Family Strengthening Coordinator Crystal Gilliland, whose first job was to enroll Carly into the program so she could find her stable and safe housing. It didn't take long for Crystal to report back with good news, she had found an apartment for Carly!
Carly's vulnerability was however profound. Since she was starting out with nothing and issues related to her pregnancy caused her to leave work. The Healthy Moms, Healthy Babies program stepped in to help with two months of rent, a car seat, baby bottles, parenting classes, and a Pack-N-Play safe-sleep environment. Crystal also saw to it that Carly was supported throughout her pregnancy. At Christmastime, she coordinated with St. Lawrence's Catholic Church in Hamburg to ensure Carly had pots and pans, and gifts to bring some measure of hope and holiday cheer. Crystal hopes Carly felt the love of the Catholic community. Carly says she did.
When the day came for Carly to move out of her studio apartment to make way for renovations, she went out and applied for a rental home. She especially liked one small house. On her own, she submitted her application to rent the house and qualified! The house itself was donated to CCSOMO for use as a low-income rental property. In a single moment, Carly's homelessness ended.
Carly sums up best the homelessness trap and admits she could not have escaped without CCSOMO's help: "In order to work every day, or try to find employment to pay your bills, you can't worry about where you're going to sleep, what you're going to eat. It's very important to have housing. Without it, homelessness is just a vicious cycle. It's almost impossible to get out on your own."
As for Crystal, she is proud of Carly's achievement, "She has really come full circle and is doing phenomenally well. She is working full-time, paying her rent, and is taking care of herself which is a big deal." Indeed, Carly is now able to make breakfast for her daughter in her own kitchen. What could be a bigger deal than that?
August 2019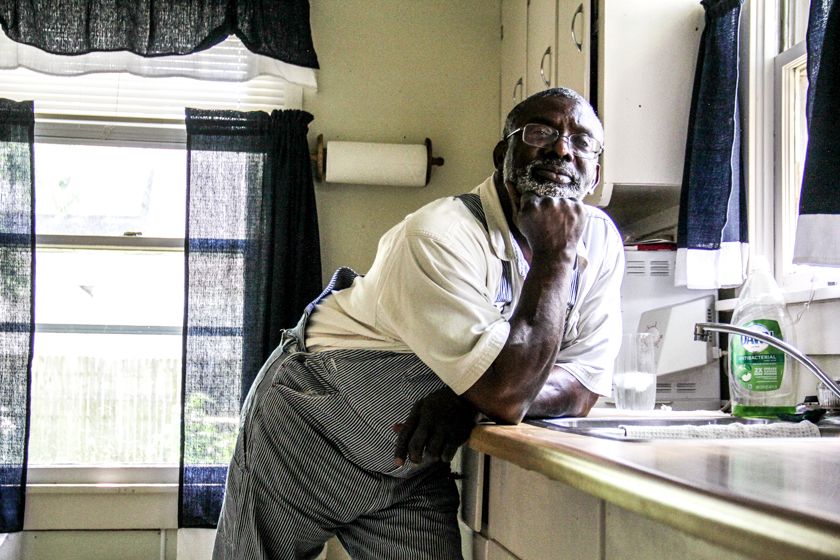 James Story
James is a friendly, tall, and courteous man. Dressed in crisp blue and white striped overalls, and a bright white shirt, he greets his guests at the door and invites them to sit in his living room where a remarkable picture of himself hangs. The man in the picture is every bit a soldier. He has movie star good looks and grips his rifle with strength and pride. As a soldier, he sacrificed with a band of brothers. They missed birthdays. They were trusted friends. As a veteran, James raised a family and worked as a carpenter until one day his body gave out. This injury took his livelihood away, a plight his numerous surgeries did not remedy. Disabled, he was unable to find work. Soon after, he became homeless, sleeping in a car in his mother's drive way. She had passed away. This was James' situation when the Veterans Administration (VA) referred him to Catholic Charities of Southern Missouri (CCSOMO) for help.
CCSOMO's Supportive Services for Veteran Families (SSVF) program was established to help people like James. SSVF caseworker Becky McDonald immediately interceded in his ongoing negotiation with the VA over James' level of disability compensation. His current compensation rating had been oscillating between a 40 percent rating resulting in a monthly gross income of $617.73, and a 100 percent rating which would have afforded James a measure of financial stability and the ability to fund his day to day living expenses and find affordable housing. As Becky nudged along these talks, she began tackling James' housing problem.
Becky learned James had no luck convincing landlords to rent to him. One of SSVF's mandates is to maintain a stock of available homes and apartments for rent and build relationships with landlords in the area. She drove James around neighborhoods to find suitable housing. Together, they spotted a promising rental house and met with the landlord, who upon hearing James was a veteran and learning more about CCSOMO's services, gladly entered into a lease agreement with him. The landlord was so impressed with our program he also referred two tenants to CCSOMO in need of services through SSVF.
CCSOMO recognizes that oftentimes, the initial costs of establishing a residence are beyond the economic means of homeless individuals. Accordingly, CCSOMO paid James' rental deposit, first month's rent; and utility deposits except for gas to further reduce the barriers that keep people homeless. Liberty Utilities, the local gas company, waived their deposit requirement upon hearing James was a veteran. As a final service, Becky helped James obtain his 100 percent disability compensation rating with the VA, ensuring his financial stability and self-sufficiency.
Becky's involvement in James' life lasted only three months, yet her effect and that of CCSOMO on his life was profound. CCSOMO was established to assist the vulnerable of southern Missouri and provide them compassionate social services. James' story reminds us that some of our veterans, who have sacrificed so much for us, now need our help to live with dignity. In James story, CCSOMO's involvement ended with mission accomplished and James in his own home drinking a glass of ice-cold water on a pleasant summer day.
August 2019
---
Our Instagram Stories - A Day in the Life of Catholic Charities of Southern Missouri